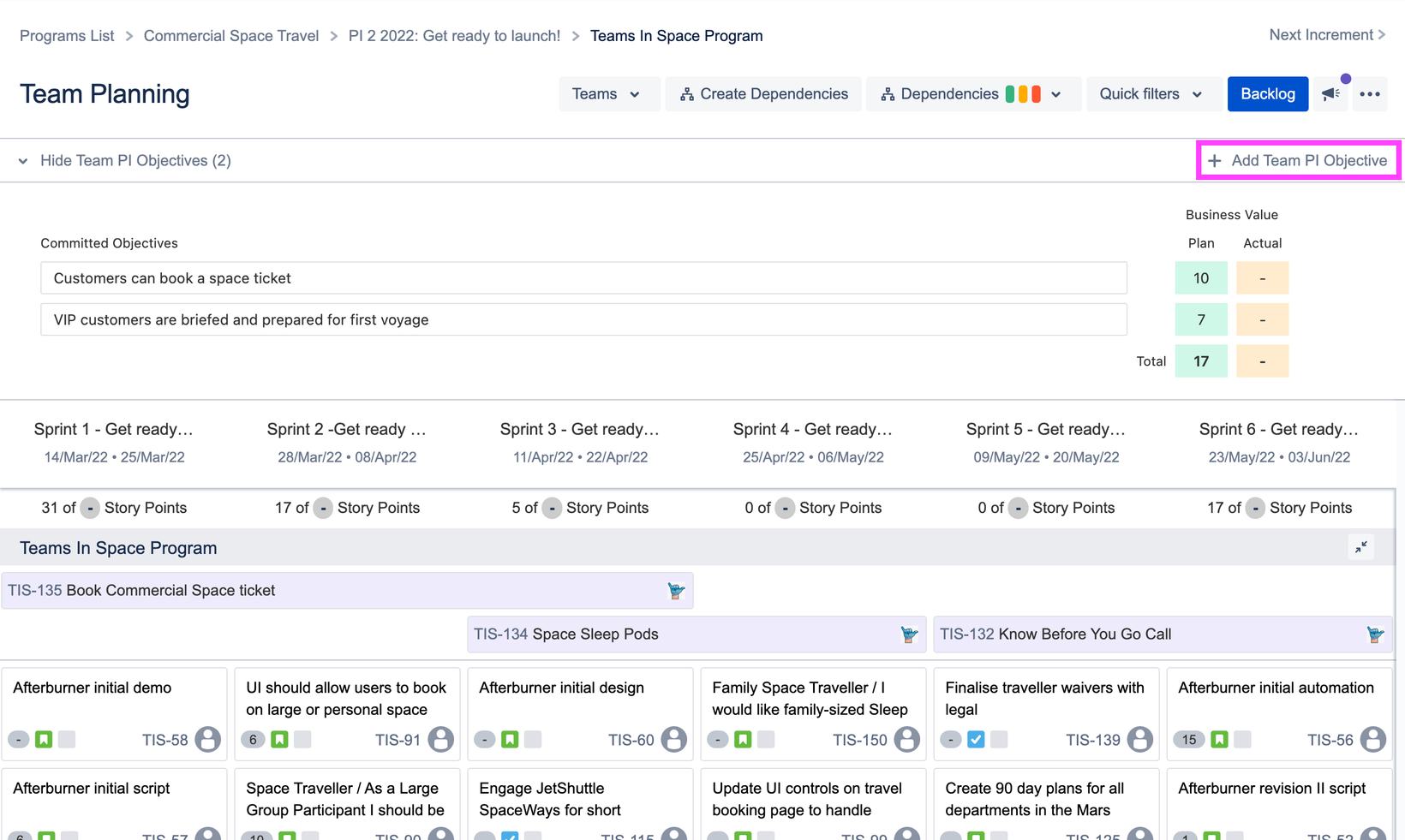 DATE:

AUTHOR:

The Easy Agile team

RELATED ROADMAP ITEMS:
New feature
Cloud
Server/DC
Programs
PI Planning & SAFe
Add value and features to PI Objectives
DATE:
AUTHOR: The Easy Agile team
Connect work and value to PI Objectives
PI Objectives are one of the two key outputs of PI Planning in SAFe.
Now Easy Agile Programs provides you with confidence to deliver both the Program Board and PI Objectives as an outcome of your PI Planning session.
You can now create PI Objectives directly from the Team Planning Board:
And go beyond just creating PI Objectives
This feature wouldn't be complete if it didn't help teams to deliver on what is required from a PI Planning session, that's why you can:
Select the objective type: Is this a committed or uncomitted objective? Keep your teams on track to deliver by making it really clear what they are confident in delivering vs what is uncomitted.

Link issues: which work will help teams to deliver against business objectives? How does the work that it scheduled help to deliver value to the business? This new capability helps to connect the dots

Assign business value: Business Owners can assign business value directly to the PI objective in question, communicating this to teams within the context of the work. Additionally they can follow up with assigning the actual value once the work has been delivered

Filter by objective: Simply clicking on the PI objective within the swimlane will filter the Team Planning Board to display scheduled issues linked to that objective.
Easily gain the visibility and context needed
Previously Product Owners/Scrum Masters would likely have used a separate tool to create their teams' PI objectives, with no visibility into the outcomes the team is trying to achieve.
Similarly, Release Train Engineers and Business Owners would have had limited visibility on the work being delivered to achieve the objectives, especially within the one tool. This could present challenges for the RTE to unblock the team and for stakeholders to see progress towards delivering business value.
This new capability within Easy Agile Programs provides the visibility needed to track progress and understand how the scheduled work connects to the business outcomes.
Teams also benefit from having this context added directly within the tool where the work is done.
Server/DC customers: Upgrade to version 4.6.0 of Easy Agile Programs to enjoy these features
Want to learn more?
Visit our PI Objectives help documentation for more information.