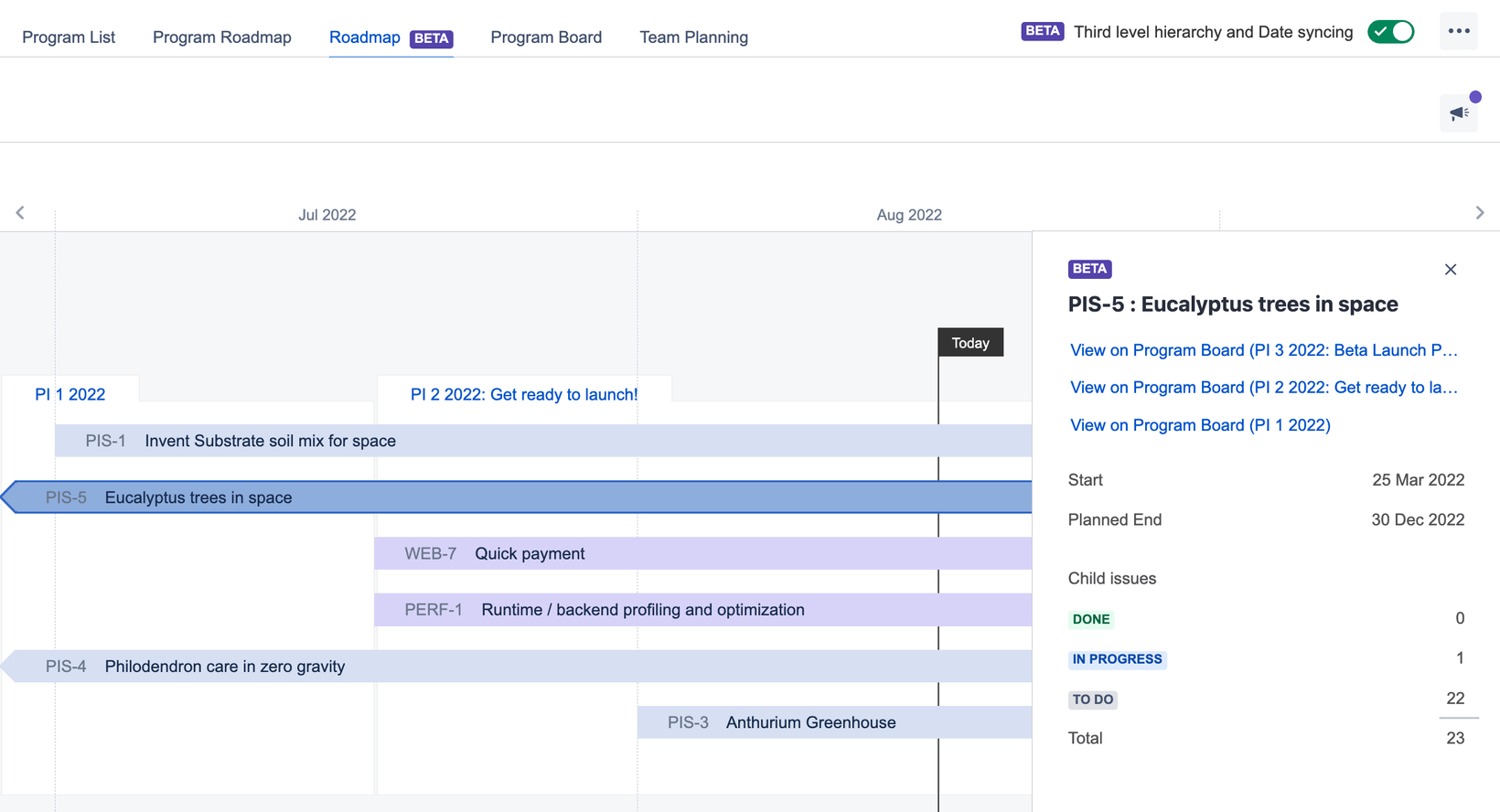 DATE:

AUTHOR:

The Easy Agile team

RELATED ROADMAP ITEMS:
New feature
Beta
Cloud
Programs
Our two most voted features now in Beta! Third level hierarchy and date syncing
DATE:
AUTHOR: The Easy Agile team
We know Easy Agile Programs is a powerful and complete PI Planning solution, but we've been working on some major changes for this Beta release to add value beyond PI Planning and streamline your agile ceremonies and workflows.
Feature 1: Additional level of hierarchy
Through your feedback we learned strategic business initiatives or higher level objectives provided by leadership teams often span multiple Program Increments and don't live inside Jira - but the work of the teams does.
This Beta release delivers additional level of hierarchy to connect business priorities with the work committed to progress them during the PI. Teams understand how their work ladders up to what's most important to the business, and business stakeholders can be confident in how priorities are progressing.
Release Train Engineers and Product Managers can now better understand the whole picture throughout the PI - helping teams to maintain momentum in delivering value and address blockers as they arise.
Introducing:
A third layer of hierarchy (L3) above the features (Jira epics) you're used to seeing in Easy Agile Programs

A new Roadmap view that spans more than one PI to visualise these issues

The ability to see child issues and key metrics for these L3 issues

Filter the Program Board by these L3 issues to focus your view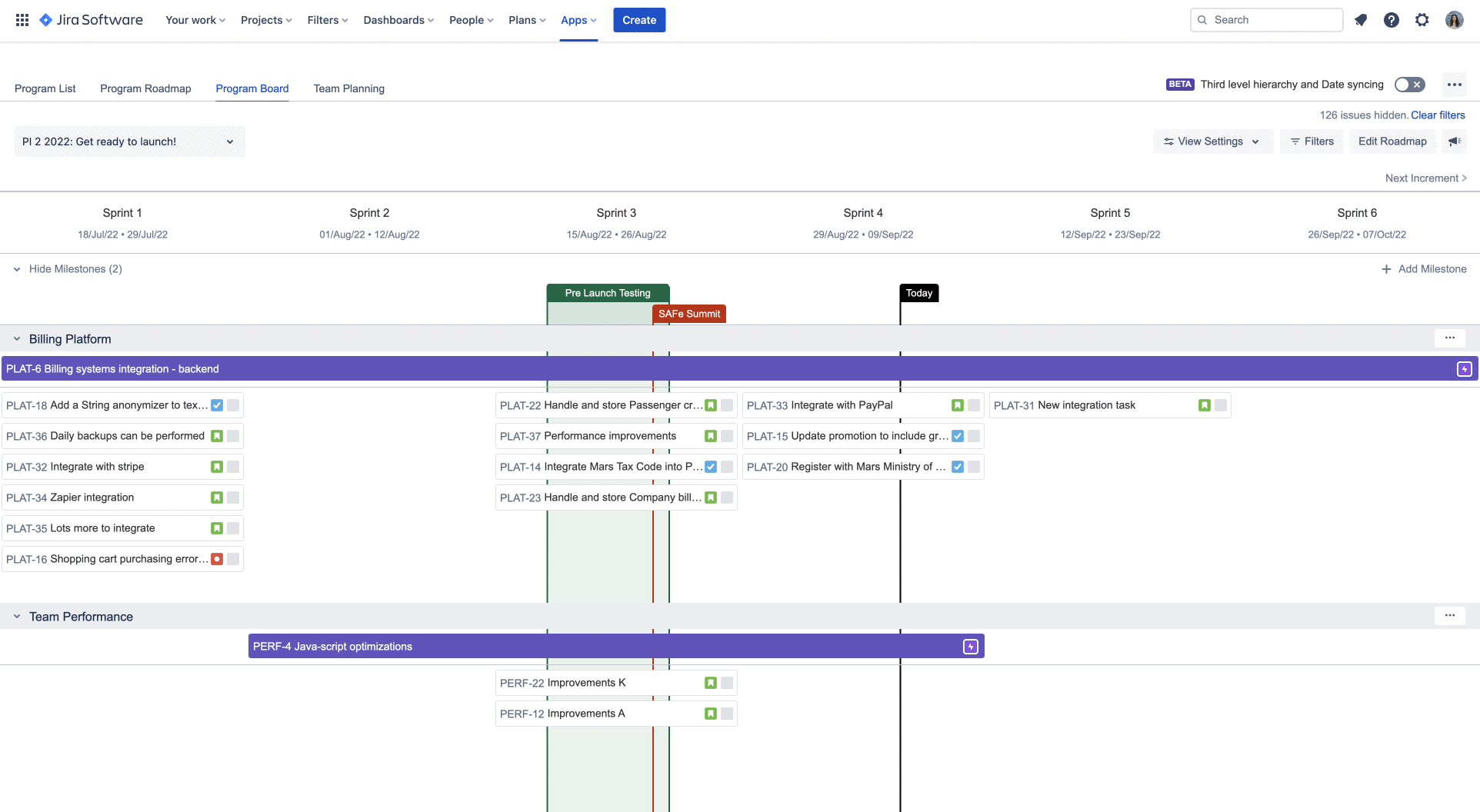 Feature 2: Date syncing
We know having a highly visual tool like Easy Agile Programs helps you to align teams during planning, but we want to empower teams to maintain alignment.
We recognise that this is only possible if Programs stays up to date as things change beyond PI Planning.
Introducing:
Date syncing functionality using Jira date fields

Roadmap items now sync back to Jira so any date changes in our app are automatically updated in Jira and vice versa
Easy Agile Programs is now a single source of truth for you and your teams - no more manual rescheduling and always up to date.

---
How will this help me?
Easy Agile Programs sets teams up for success during and beyond PI Planning, helping to maintain team of team alignment with each other - but also with what matters most to the business.
Easily track progress towards business priorities, unblock teams and maintain momentum

Communicate to business stakeholders how higher level initiatives are progressing

Connect teams to the bigger picture to understand how their work delivers value

Useful for ART/PO syncs and stakeholder updates
How do I access the Beta?
Users with 'Manage Programs' permission will be able to toggle on the beta from the navigation

Don't have 'Manage Programs' permission? Often this will be your Jira Admin, Release Train Engineer, or Program Manager.
For a complete walk through of the beta, including how to turn it on and what it looks like in product, check out this video: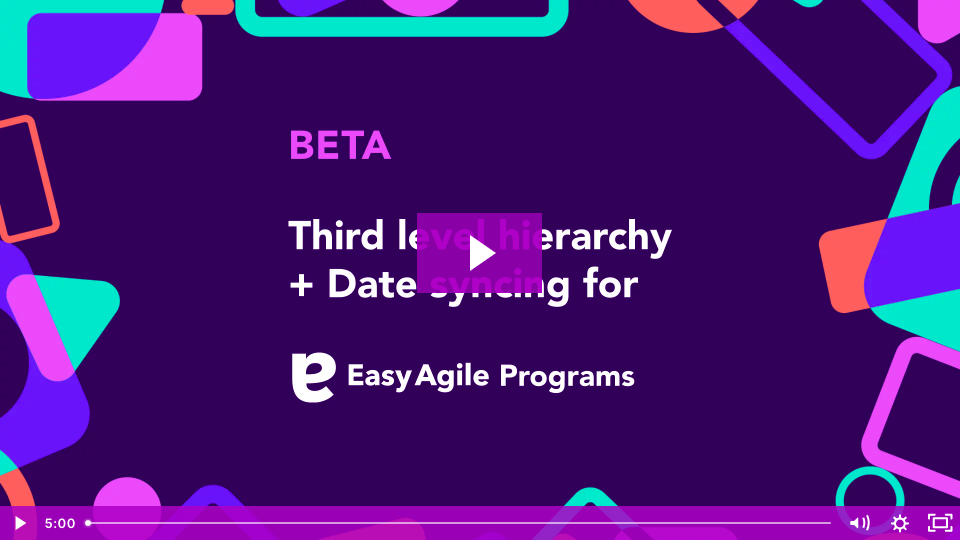 When will this be available for Data Center / Server customers?
Our planned release to our on premise customers is in October. Subscribe to our change log to be alerted when this is available as an update.
How do I provide feedback on the beta?
We'd really appreciate any feedback, suggestions or questions about the beta.
You can leave feedback using the 'Leave Feedback' button within the app or you can also send feedback directly to the Product team by clicking here.
Visit our help centre for more details
Have additional questions about this beta release? Visit our help documentation for more comprehensive information.